August 23rd, 2012 Posted in
Covers
,
Guest Post
,
High-C
,
Latin Funk
,
Latin Soul
,
Tejano
,
Texas
Back again on Música del Alma is the dude High-C, joining us on a whirlwind promotional stint in honor of his freshly redesigned mega-blog, Rehash Excavation. Along with partner in grime Wilson, High-C has been generously sharing quality soul and funk music on his website for well over a decade. Today, he provides us with some killer Tejano Soul courtesy of Tony Hernandez!  -Slim Jenkins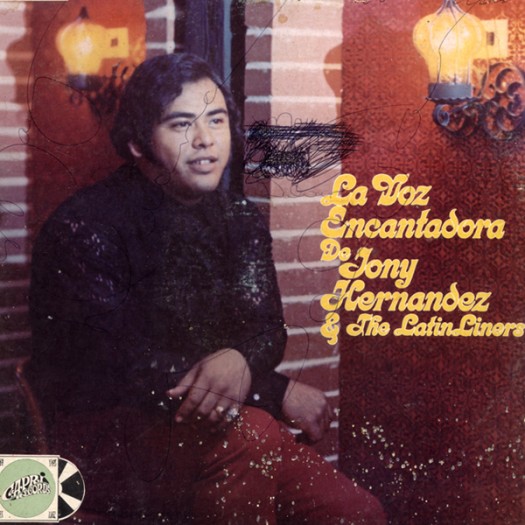 Tony Hernandez and the Latin Liners: "Jo Tex" & "Nothing is the Same"
From the La Voz Encantadora LP  (Capri Records – Dallas, Texas)
Hailing from Seguin, Texas, just 35 miles east of San Antonio, emerges one of Chicano music's less heralded bandleaders, Tony Hernandez. Like other comparable Mexican American bands of the day, Tony and his Latin Liners boasted an eclectic repertoire, delving into multiple genres, playing everything from traditional Mexican rancheras and boleros to up-tempo, chugging funk instrumentals. Following suit behind the A-listers on the scene such as Sunny & the Sunliners and Little Joe and the Latinaires, Tony spared no expense on the horn section's payroll. This barrage of fortified brass is what defined the Texas Sound in the 1960s-70s and is what makes the featured tune so undeniably heavy. An homage to a fellow Texan soul brother, "Jo Tex [sic]" is one of two funky offerings on an LP composed almost entirely of rancheras. The second point of interest (to funk fans, anyway) on "La Voz…" is the band's take on the 1970 Grand Funk tune "Nothing is the Same." The familiar drum, bass and guitar intro that inspired sampling hip hoppers over twenty years ago sounds even sweeter given the Latin treatment. – High-C
EDIT:
Thanks to Detective Jenkins for mining deep into the Youtube-o-sphere to uncover that "Jo Tex" is not an original TH & tLL composition, but in fact, a cover of a cover:
http://www.youtube.com/watch?v=dTnG2duZ_rk
and
http://www.youtube.com/watch?v=o3XCRtEsBx4
Check out High-C's previous Guest Post for Música del Alma. Un abrazo, compadre!