Alex LaRotta is a good friend and emerging ethnomusicologist based in San Antonio, Texas.  This week he has written an outstanding overview about the incorporation of Cumbia into the Tex-Mex gamut.  Thanks, man!
———————————————————————————————-
What's often misunderstood about La Onda Chicana – the Tex-Mex musical/socio-political movement of the early 1970s – is that the 'new sound' emanating from Texas didn't just incorporate American r&b and rock music, as it is popularly understood.  Tex-Mex orquestas associated with La Onda Chicana also incorporated música tropical of Caribbean and South American influence, though to a discernible lesser degree than Latin groups in New York and Chicago. The Colombian cumbia became wildly popular in Mexico by the early 1960s in part by Eduardo Baptista and his Mexico City-based musical powerhouse, Discos Peerless – one of the oldest and most influential Latin American record labels of the 20th century. As late as the mid '60s, Peerless and its various subsidiary labels were licensing, pressing, and distributing Colombian cumbias across Central American and into the American Southwest, feeding the infectious cumbia frenzy on both sides of the border. Meanwhile, tropical groups started popping up across Mexico, emulating the great cumbia and tropical bandleaders of Colombia – Pacho Galan and Lucho Bermúdez were particularly popular figures of Mexico's tropical scene. Though the craze wasn't as profitable as the mambo or cha-cha-cha of several years prior, cumbia has enjoyed an arguably longer shelf life than many other of the 'trendy' Latin musical styles. Later re-imagined by Selena and her early '90s pop crossover sensation, cumbia remains a genre favorite for Tejano bands even today. Needless to say, the synth-heavy and all-too-'80s sound of the modern cumbia tejana is a far stretch from its Colombian Afro-Caribbean roots, but these early Texas cumbias were remarkably pretty close to the big band sounds of Colombia's golden age. Most Texas cumbias were covers of Colombian and Mexican hits, so while there weren't tropical arrangers in Texas per se, Tex-mex bands of La Onda era were definitely bit by the cumbia bug.
Subtle changes to band arrangements and instrumentation can be found in La Onda records of the late '60s/early '70s, which had evolved from the basic bass-and-accordion conjunto instrumentation known throughout most of South Texas to big brass bands and full-bodied orquestas. Considering that both the Colombian cumbia and Tex-Mex conjunto are characteristically accordion-driven musical styles, the genre melding during La Onda heyday sounds quite natural, though notably distinct than the original Colombian compositions.
All history/ramblings aside, big up to Adam and Música del Alma for inviting me to share a few of my favorite cumbia tejana sides. Gracias compadre! Enjoy!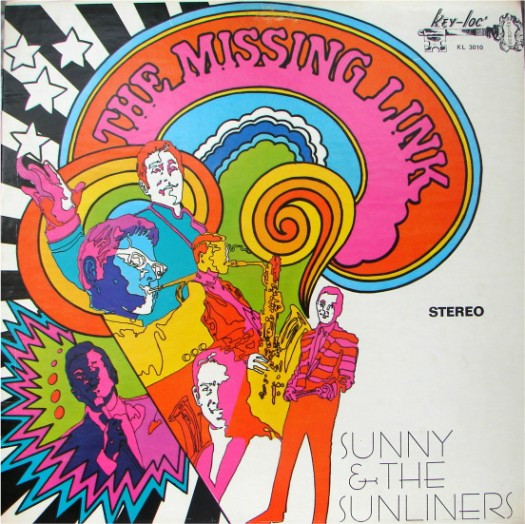 Sunny and The Sunliners – "La Pollera Colorada" & "Cissy Strut" from The Missing Link LP (Key-Loc, 1970)
Though Sunny and The Sunliners' The Missing Link LP is well-known in latin funk circles (and it does get super fonky – check their rendition of The Meters' "Cissy Strut" below for the non-believers), this record contains one of my all-time favorite cumbia covers. Sunny takes a swing at the immortal cumbia classic – "La Pollera Color·" – written by Colombian costeÒo Wilson Choperena of Pedro Salcedo y su Orquesta fame. Though no one could ever really top Choperena's original, Sunny's version easily qualifies for honorable mention. Wilson Chopenera recently passed on (a week ago as of this writing), but his legacy lives on with this timeless Colombian anthem and countless other compositions. R.I.P. maestro.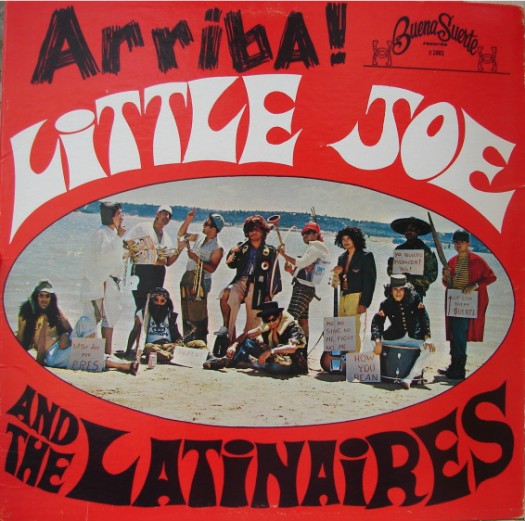 Little Joe and The Latinaires – "Cumbia de la Media Noche" from the Arriba! LP – (Buena Suerte, 1968)
From José "Little Joe" Hernandez's Arriba! LP – the debut full-length of his Buena Suerte imprint (of legendary Brothers Seven fame for the funk heads) – "Cumbia de la Media Noche" is a personal favorite. The huge (huuuge!) horns and luscious, bright keys alone gives it my Colombian stamp of approval – trust me, used only sparingly. "Cumbia de la Media Noche" was a popular cover tune of early Mexican tropical groups, recorded and popularized by Mexico's Carmen Rivero y Su Conjunto in 1964. To my knowledge, Little Joe was the first Tejano to take a crack at it.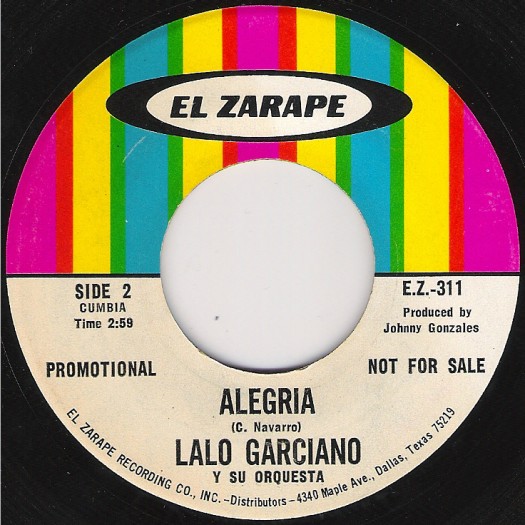 Lalo Garciano y Su Orquesta – "Poquita Fe b/w Alegria" (El Zarape, 196?)
A relative unknown of the Tex-Mex music world (aka ungoogleable), Lalo Garciano y Su Orquesta's "Alegria" (a typo from the real title of the song, "Alergia", and coincidentally my Mom's name – HI MOM!), "Alegria" is a big horn cumbia produced by Mr. Onda Chicana himself – Johnny Gonzales of the Dallas-based El Zarape Records.* Originally recorded in 1968 by popular Mexican tropical group Sonora Santanera for CBS Mexico, Garciano and his group faithfully execute a near note-to-note cover of Chico Navarro's original. Gotta love that big bellowing "CUMBIA!" that kicks off at the top!