Finally getting back from work/vacation in Colombia and Venezuela and I had an incredible time! Plenty of fun and records were found on the trip, many of which will be posted here either in reviews or mixes coming up really soon. I'm still processing my South American haul, so feast your ears on a tremendous boogaloo banger from Lima, Peru, which I had waiting for me at home when I got back.
Carlos Hayre (I've also seen it spelled Haire) was an orchestra leader and guitarist from Lima, Peru's bustling capital city. Better known for his contributions to Peruvian music on the guitar, he also fronted Afro-Cuban bands that were gaining in popularity in 60s Lima. This week we have him doing "Me Gusta Boogaloo", an utter dancefloor stormer of a track that has no guitar, just pure brass, piano, and rhythmic bliss!  Oh, and hand claps!
Shouts to DJ Hobo D from the Peligrosa Crew down in Austin, TX.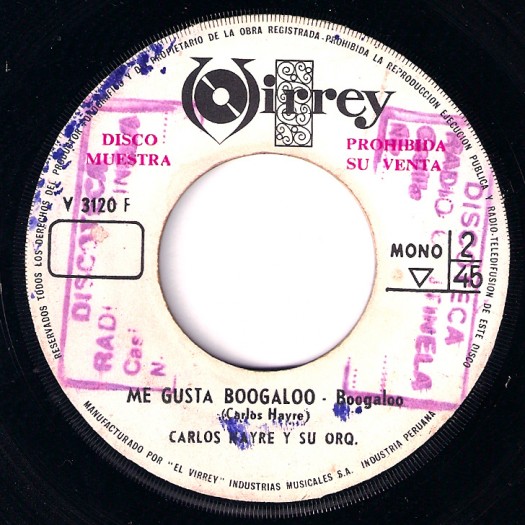 Carlos Hayre: "Me Gusta Boogaloo"
From the Virrey 7″ (Lima, Peru, 196?)