The island of Trinidad, the cradle of Calypso, is home to an incredible history of unique music. As with pretty much anywhere in the musical melting pot of the Caribbean, influences and styles cross-pollinated freely. The Mambo and Cha Cha Cha crazes of the 50s and 60s left their mark throughout Latin America and the Caribbean and this blog is pretty much devoted to just such cultural exchanges. This week's episode features two obscure Trinidadian 45s recently obtained on a dusty digging expedition in Brooklyn, NYC, which both reveal the beautiful things that happened when Latin music found influence in Trinidad.
The Monogram Caribbean Orchestra played with none other than the legendary Calypsonian Lord Kitchener, but is virtually unknown beyond that (try Google if you don't believe me!). Here they do a blistering tune called "Calypso Cha-Cha For Spooks" that's more of a slow Calypso-Rhumba than a Cha Cha Cha, but that's hardly the point. Stylish soloists go to town over the brooding bassline and drum beat, with piano, flute, trumpet, guitar and alto sax all doing their spookiest. They were certainly a talented group of musicians, and I wonder who else they played with?!
Next up is Pete De Vlugt & Orchestra doing "Caremelos (Twist)". It's a cover of Sonora Matancera's tune of the same name, which provided a young Celia Cruz with an early hit. This totally reminds me of Congan Rhumba music (itself also heavily influenced by Cuban groups like Sonora Matancera), and no doubt you will agree once you press play. The swinging piano and melodic horns are simply beautiful. Enjoy the heavy Tropical vibes!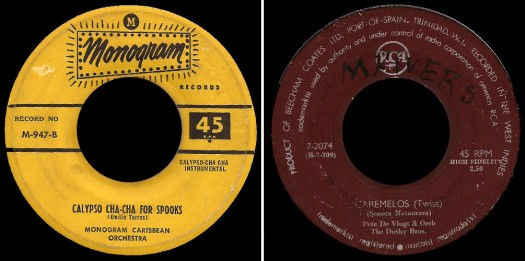 Monogram Caribbean Orchestra: "Calypso Cha-Cha For Spooks"
From the Monogram 7″ (USA)
Pete De Vlugt & Orchestra: "Caremelos (Twist)"
From the RCA Victor 7″ (Trinidad, W.I.)