Y'all know the deal by now.  Here is my #1 pick!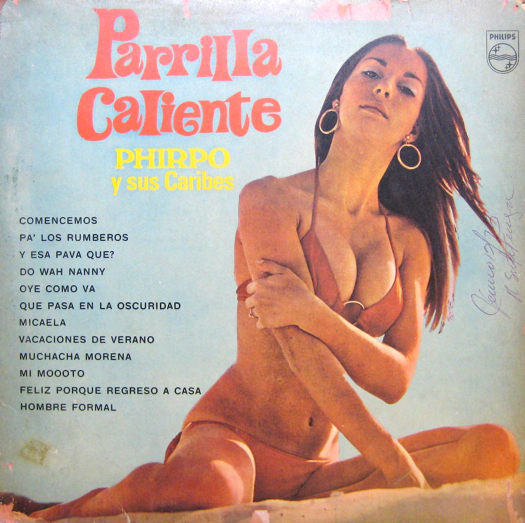 1.)  Phirpo y sus Caribes: "Comencemos" (Philips, Colombia, 197?)
"Comencemos" is my top pick without question.  Phirpo y sus Caribes were a mysterious band formed in either Colombia or Venezuela during the early to mid-seventies, and were fronted by master Venezolano trombonist Porfi Jimenez (for those who have any doubts about this, just flip the first and last syllables in Porfi's name around the "r" and you get "Phirpo").  His trombone takes center stage in this cover of Fela Kuti's classic "Let's Start", along with some fire-breathing trumpeters, a skilled guitarist and two energetic drummers.
Primarily known for his legendary salsa recordings, Parilla Caliente (hot grill/barbeque) was Porfi's wild funk record that he presented to humanity.  While I dig pretty much the entire LP, "Comencemos" stands out as one of the most incendiary instrumental funk tracks of all time (Latin or otherwise).  It's like a bright orange habanero pepper surrounded by green bells that look on in envy of its potency!
Special thanks to Oliver Wang and Roberto Ernesto Gyemant for help figuring out that Phirpo = Porfi Jimenez!
——————————————————–
I hope you enjoyed my top 5 Latin funk tracks!  I also wanted to include a few honorable mentions that didn't quite make the cut:
La Kabala: "Cumbanchero" & "Miami Beach"
Ray Barretto: "Together"
Los Sobrinos del Juez (Judge's Nephews): "Harina de Maiz"
Soul Fantastics: "El Mismo (Sere)"
Nico Gomez: "Ritual" & "Lupita" & "Baila Chibiquiban"
Raoul Zequeira: "Maraca y Bongo"