Sifting through shelves of moldy records on a recent digging excursion in coastal Colombia, I came across a unique rock album amidst a sea of salsa LPs. The colorful cover of La Banda Nueva's lone LP, La Gran Feria, immediately caught my attention, and was a welcomed bonus to all of the Cumbia and Salsa LPs I had purchased up until that point. I immediately threw it on my portable turntable and was blown away with the sounds that met my ears.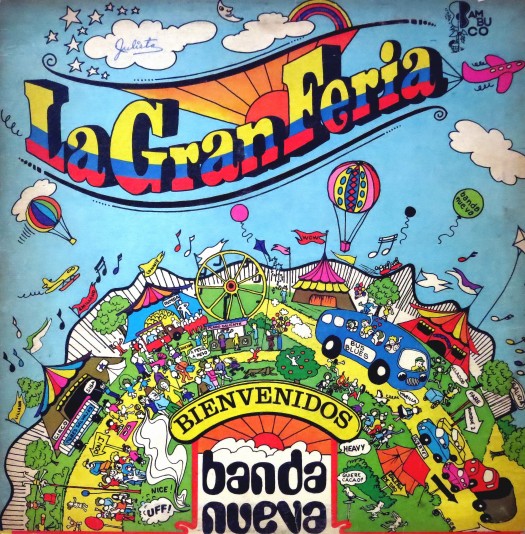 Simply put, rock is not the genre of music that Colombia is best known for. Only a handful of rock bands existed there in the 1960s and 70s, the vast majority of which could be found in the three cities of Bogotá, Medellin and Cali. What originally started as La Nueva Ola movement during the 1960s which looked to American and British popular rock groups for inspiration, soon blossomed into a creative space where rock bands drew inspiration from many sources, both external and internal, by the early 1970s. Perhaps one of the best outfits from this period was La Banda Nueva, comprised of one member from a major early Nueva Ola group called Los Flippers alongside 3 session musicians from Bogotá, who released their La Gran Feria LP on Discos Bambuco with the full support of label owner Eduardo Calle buy cialis uk.
Their music could lazily be described as "Progressive Rock", or Prog, but that umbrella term does this music a disservice. La Gran Feria mixes a pretty startling variety of musical influences into its gamut, including jazz, psych, blues, and funk. "Emiliano Pinilla" starts the LP off with a bang, letting keyboardist Orlando Betancur unleash a devastating key pattern over a funky drum beat. The lyrics on this particular track are also great and firmly press political boundaries of the era. "Rumba Uno" is probably the stand out track for me on the LP, though, with an ingenious jazzy backbone with Orlando Betancur again taking center stage with some incredible improvisation. A total gem of a record from Bogotá that has me wanting more!
Banda Nueva: "Emiliano Pinilla" & "Rumba Uno"
From the La Gran Feria LP (Bambuco, Colombia, 1974)