Hot off the heels of Age's incredible mix last week, our third Guest Post comes to us by way of O-Dub, creator of one of the web's finest audio-blogs, Soul-Sides.
-Slim
————–
First off, I wanted to express my admiration for the great job Musica Del Alma is doing to help spread knowledge on the diversity of Latin goodness that's out there. There is some heavy, heavy heat in circulation here, sure to lead to light pockets for those inspired enough to hunt down some of these joints.
For my guest post, I wanted to highlight a genre I've been slowly exploring – pachangas. I was lead to pachangas via my interest in boogaloo; when the latter ascended to become the dominant Latin dance style in mid-60s New York, it took over a spot previously filled by pachangas at the beginning of the decade. Both, in essence, were post-mambo crazes, all drawing from similar Cuban musical elements, and always geared with the dancer in mind.
The word "pachanga" always seems to fall in close proximity to "charanga" and indeed, the two were inextricably linked. From the best of my understanding, charangas were what the bands were called and from most descriptions, they seemed to be smaller than the typical mambo orchestras and also incorporated more flutes and violins. The pachanga became the dominant dance style associated with the charangas and I suppose the zippiness of the music captured, in some form, the agility of these smaller bands not to mention the sound of flute darting about. These are, of course, not hard rules and like almost all the Latin music I've ever encountered, the lines of slippage are great and many.
Case in point, one of my favorite pachangas is this one: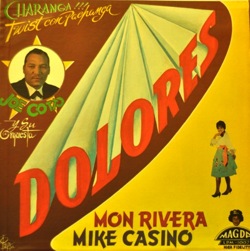 Joe Cotto Orchestra: "Dolores"
From Dolores (Magda, 1963)
An absolute cooker of a track, especially with that piano montuno that opens the album and the vocal interplay of the band. That said, while they loudly proclaim that this is a "twist con pachanga," you'll notice there's no flute in the song; instead you have the great trombonist Mon Rivera puffing away.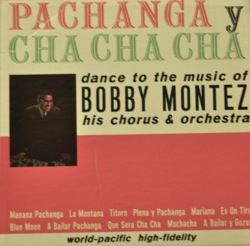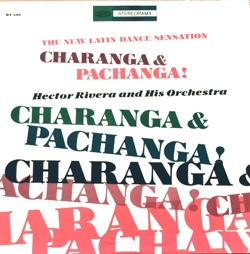 Bobby Montez: "A Bailar Pachanga"
From Pachanga y Cha Cha Cha (World Pacific, 1961)
Hector Rivera and His Orchestra: "Mi Pachanga"
From Charanga and Pachanga! (Epic 1961)
These were two of the first pachanga LPs I ever saw reissued and if I'm going on good faith, I can only assume that bespeaks the general quality of each album; I've certainly been quite happy with the excellence of the selections on both.
What stands out about the Montez is his use of vibes (and again, this is one of those flute-less pachangas) but if you finally want to hear what a "classic" pachanga sounds like, you could do worse than Hector Rivera's "Mi Pachanga." So far, all three cuts have one important trait in common – that important use of piano to set down an initial rhythm riff that helps put dancers in motion at the drop of the first montuno.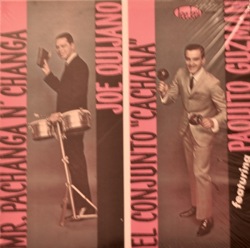 El Conjunto "Cachana": "Descarga Charanga"
From Mr Pachanga N' Changa/El Conjunto "Cachana" (Teejay, 196?)
I threw this in partially because Joe Quijano was a major player in the pachanga scene but also because I like how he frames his take on charanga music within a classic descarga format (the bassline is a dead giveaway at the beginning). Heck, I have no idea if this would be considered a pachanga but it still sounds great, no?
– O-Dub